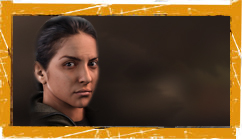 The official S.V.E.R. website at http://www.sver-services.com/index.html writes:
Priya Khan got her start in the Indian Air Force in 2006, then joined the Garud Commando Force in 2010. During her four years in the Indian Special Forces, she executed combat rescues, counter-terrorism operations, and peacekeeping missions throughout Asia and Africa. After a botched operation in Pakistan, she was left behind by her commanding officer. With one leg shattered by sniper fire and a pair of broken ribs, she crawled six miles to a border station, where she was able to shoot her way through the guards.
After her convalescence, Khan retired from active duty and founded a small consulting group that provided regional governments and corporations with security and logistical advice. Seeing an opportunity for expansion into military contracting, Khan closed her consultancy business and formed S.V.E.R.. Today, S.V.E.R. is a multi-billion dollar corporation with offices and outposts throughout the world.
Priya Khan maintains a strict schedule, regularly visiting outposts and meeting with clients around the world.